Reverse Iconography by Martin Heine
"Painting from the front of the canvas? He paints from the reverse. Paint with a brush? He uses tools and instruments to push paint through the canvas."
(8.Oct.2010 TODAY THE WESTERN AUSTRALIEN ARTS-Sephen Bevis/ LYN DiCIERO)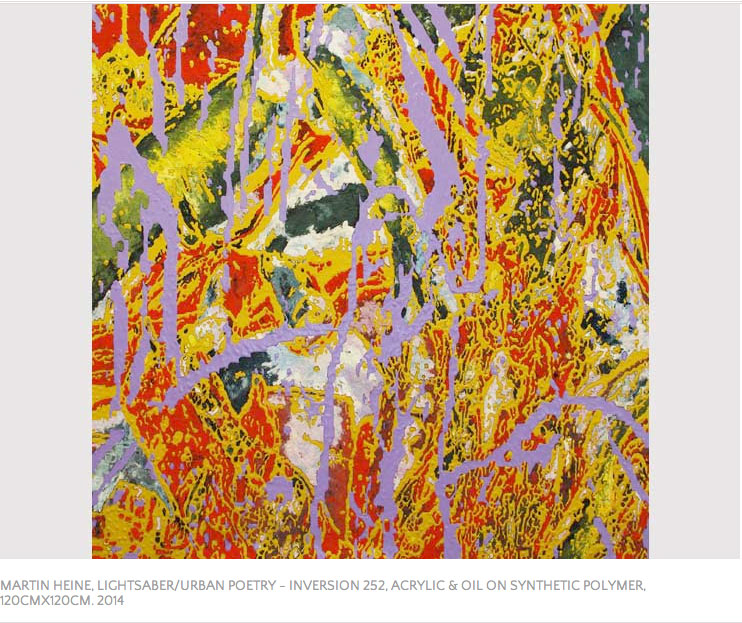 About the artist
Martin Heine was born 1957 in Villingen, Black Forest, Germany. He grow up in Neuhausen a small village there. He worked in studios in Perth, Western Australia, Zurich Switzerland, Munich Germany and Manila, Philippines. He died on 12 th May 2014 in Manila /Philippines.
Education
Doctor of Philosophy, The University of Sydney, Sydny College of the Arts (SCA), 2004.
Master of Fine Arts, The University of Western australia, 1992/95
Honours Bachelor of Fine Arts, The University of Western Australia, 1992/95
Claeremont School of Art, Western Australia, 1990/87
School of Creative Art, Bern, Switzerland, 1986/87
He had one-person shows, performances and group exhibitions at galleries national and international. Including The Drawing Room/ Manila, Melody Smith Gallery/Perth, The Sydney College of the Arts Gallery/Sydney, Gallery East in North Fremantle/Perth, Melbourne Art Fair/Melbourne, Kurb Gallery/Perth, The Lawrence Wilson Art Gallery/Perth, Elements Art Gallery/Perth Institute of Contemporary Arts/Perth under Noel Sheridan. Martin Heine also exhibited his work at the Andreas Baumgartl Gallery for Contemporary Art, Autoren Galerie, and the Munich Stadtmuseum (Übelackerhåusel) all Munich Germany.
Extensive travel enabled Heine to show his work in places such as UP Vargas Museum/Manila, performance with Diokno Pasilan, The Santo Tomas University Gallery/ Manila and Amica Bunker – sound space in New York.
In 1994 Heine was invited by artists from Bern to join the Canton of Bern studios at 317 East 5th Street, in New York. While in New York the Artists transformed the Studio into 'Bathroom wishes Art space' a Gallery performance space for experimental art and music.
Heine is the recipient of numerous awards and honours. In 1995 he received the Matilda Award for Cultural Excellence in the Visual Arts at the University of Western Australia. He also earnd a scholarship for his Doctor of Philosophy in the Visual Arts at the Sydney College of the Arts –The University of Sydney.
In 1997 he was commissioned an outdoor Sculpture at the Landeskrankenhaus Klagenfurt (LKH) in Austria. Other invited artists were, Erwin Wurm and Moucle Blackout from Austria.
Heine studied at various art academies, thus to broaden his investigation about art and society. The result of Heine' research is published within his PhD thesis 'Versus the Vox Populi – a reflection on the practice of art as a quest for liberation'. Further observations about art and society can be looked at in his book 'muscle ache'.
In the just released book 'Now the Hard Part the work of Martin Heine 1965-2011' by Dr. David Bromfield – published with the aid of a grant from the Government of Western Australia / Department of Culture and the Arts – does give everyone insight into the idea of Reverse Iconography and its relation to Heines Phyisical Illustration Performances.
Books and Paintings are in public, corporate and private collections, including: Edith Cowan University, Perth, WA. Murdoch University, WA. Central Institute of Technology, Perth, WA. National Library of Australia, Canberra, ACT. State Library of Western Australia, Perth, WA. Australian Capital Equity, Perth, WA. Royal Perth Hospital Art Collection, Perth, WA. LKH Klagenfurt, Austria. The City of Wolfsberg, Austria. MoMA: Franklin Furnace Collection at DADABASE, New York. documenta Archiv für die Kunst des 20. + 21. Jahrhunderts, Germany. John Hyde, MLA, Member for Perth, Australia.
Heine was the first Artist who paints literally from the back of the canvas.
A decade of research in Australia and exposure to different cultures and art making at international location, lead Heine to develop painting into a reversed concept. He named it Reverse Iconography Painting, or Reverse Painting™ in accordance to his new strategy of painting. Heine wants to see his reverse studies as a conscious act, with the aim to resist an image overuse by the digital enthusiast and thereby remain within a liberating space from which to work from.
In his reverse paintings, Heine does paint first what in conventional painting is painted last. Visual art at this moment works contrary to mainstream painting, where one places paint onto the canvas revealing the artists ambition and fields of visual corrections. In Heine' work paint is pushed through from the back, insinuating a performative paint act and an undisturbed picture plane, proposing a liberating desire related to image and material.
According to Heine, in his reverse studies one ought to remember and figure out what has been painted a moment before. Every brush mark disappears into a void and goes to the core of art, for Heine the only authentic way in which the artist can work freely with paint.
In his Reverse Iconography Paintings, Heine expands a modern idea into a new sphere of image making, by which no corrections are possible and the artist depends exclusively on memory to layer paint and lines. In his work Heine draws attention to the notion of reversal and the situation where the artist performs behind the canvas, anonymous but influential in the outcome of the work. This is the end of the artists ego, a new relationship between subject and material emerges and transforms Reverse Iconography Painting into true natural forms. A case of the first conceptual painting realised.
Heine is working with Melody Smith Gallery and The Drawing Room in Manila/Singapore. Many years Heine was with Gallery East in Perth/Fremantle Western Australia. He represented the Gallery at the Melbourne Art Fair in 2008 and 2010. In 2006 and 2008 Heine took up an engagement at the Kurb Gallery residency studio in Perth. He has held residency at the Stehli Seiden Areal in Obfelden/Zürich in 2005, 2007 and 2009.
Heine was looking for the courageous in art, that desire which wants to expand into the liberating, a rare place where the autonomous artwork is understood as a fleeting notion, a remedy against ego and banality, in Performance and Painting.
Photos:
Pippa Tandy, David Broomfield,Tatjana Seserco